Let's take a moment to appreciate the brilliant idea that is glamping. By combining the beautiful allure of the natural world with the comforts of luxury living, it has become the perfect option for a unique outdoor getaway. If you're someone who loves the feel of lush grass under your feet and waking up to a picturesque sunrise from your cosy tent, then you're in for a treat! Are you ready? Here are our top five glamping hotels in Thailand that're set to make your holiday experience nothing short of extraordinary.
Four Seasons Tented Camp Golden Triangle
Address: 499 MOO1 T. Vieng, Chiang Rai, Chiang Saen District, Chiang Rai 57150, Thailand
Click here to Google Maps
Get ready to embrace the enchanting outdoors with Four Seasons Tented Camp Golden Triangle. Located near the famous Golden Triangle, this glamping retreat is a haven of luxurious tranquillity.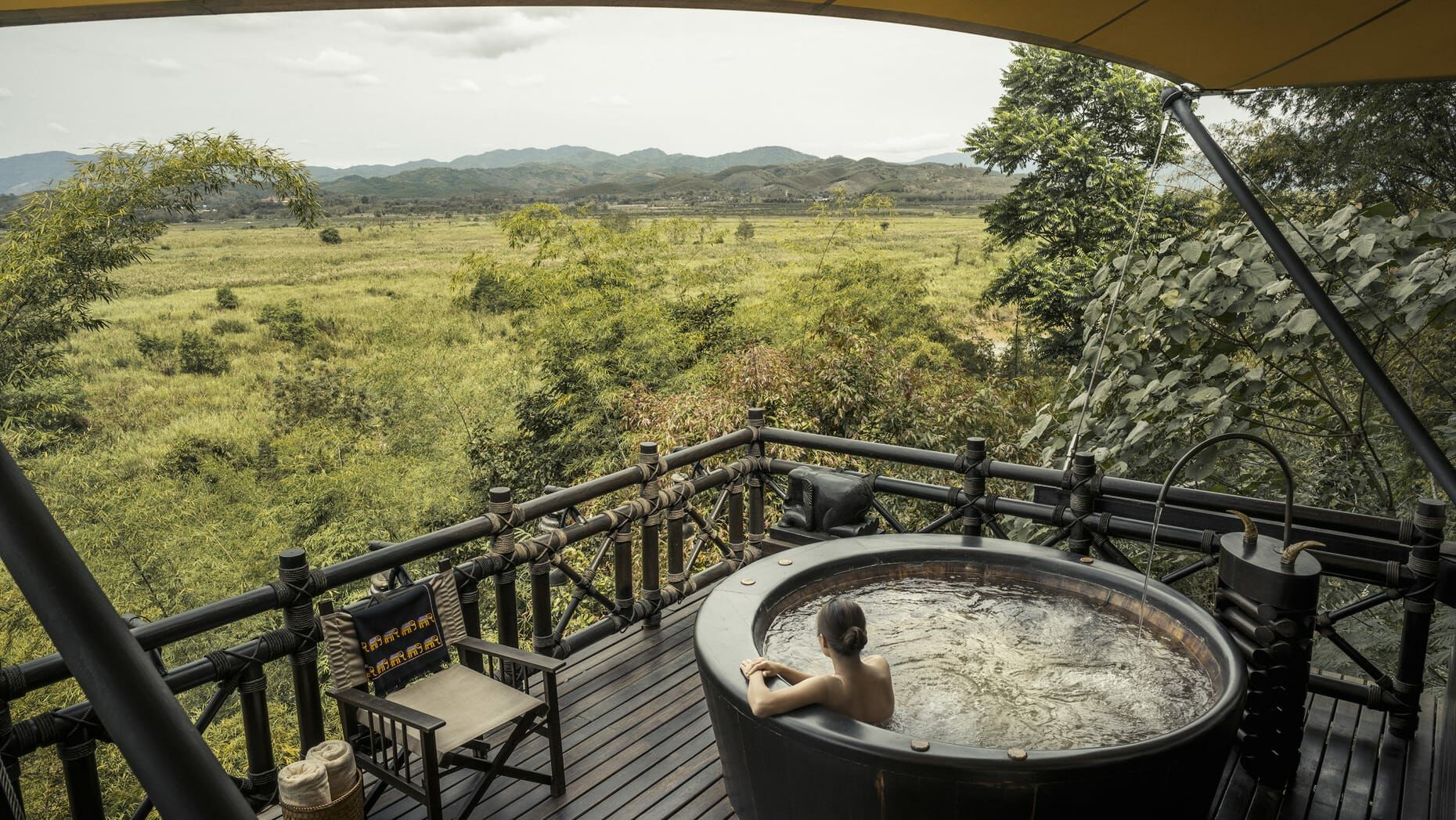 The facility offers three exquisite tent variations, as well as lodges. The Golden Triangle Tent offers a wooden tub with stunning mountain views. The Mekong Tent provides serene views of the nearby river and is equipped with fascinating wooden furnishings. Lastly, the Bamboo Tent features a cultural theme reflecting Northern Thailand, complete with an invigorating outdoor shower.
Submerge in the magic of nature throughout the day and come dusk, retreat into your glamorous tent. Each abode is an artistic fusion of rustic elegance and locally-sourced handcrafted furniture. Each tent also boasts its personalised colour scheme and character, promising a unique experience for every guest.
Keemala Phuket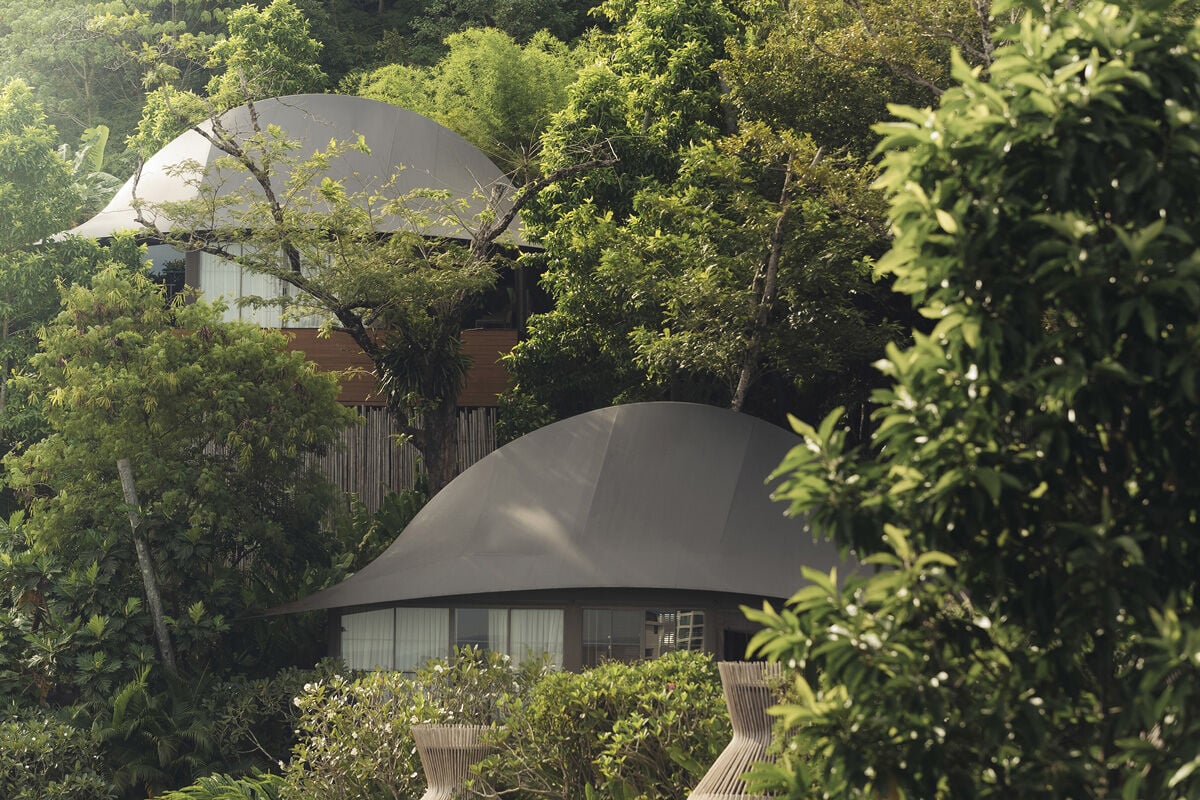 Address: 10 88 หมู่ที่ 6 Nakanai Rd, Kamala, Kathu District, Phuket 83150, Thailand
Click here to Google Maps
Nestled in the southern region of Thailand, Keemala Phuket adds a splash of luxury to the rainforest. Offering a serene escape from bustling tourist crowds, this glamping spot undoubtedly stands out among the lush greenery of Phuket.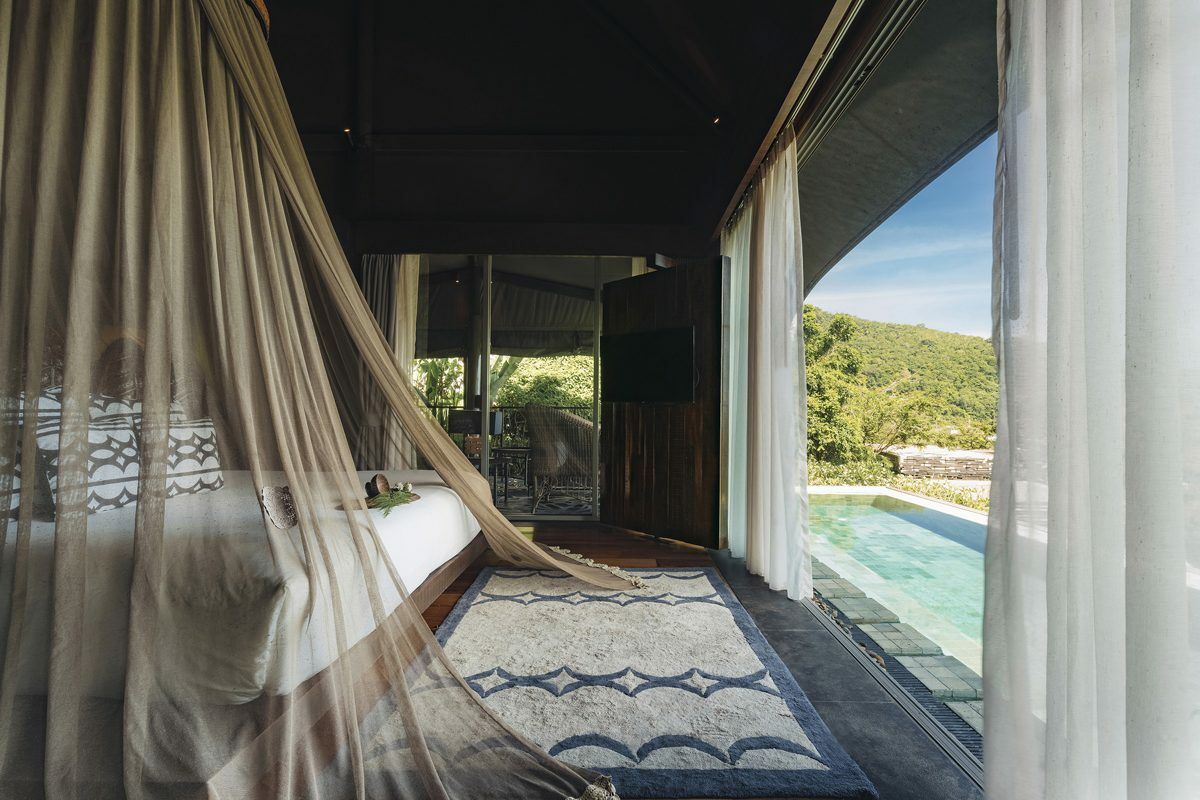 There are several accommodation options at the hotel, but the Tent Pool Villas, inspired by the nomadic lives of the Khon-Jorn Clan, genuinely encapsulates the glamping experience. Offering spacious bedroom with a king-size bed and a private pool, this villa is perfect for nature lovers who crave outdoor adventure without sacrificing luxury.
However, the star feature has to be the villas' private pools and outdoor lounging spaces – an irresistible invitation to relax. Regular camping might bring up fears of crude pit toilets or frantic searches for a decent bush, but the real highlight at Keemala Phuket is the incredible ensuite bathroom. It combines a contemporary style with rustic wooden touches that design enthusiasts will certainly admire.
Sonvea Kiri, Koh Kut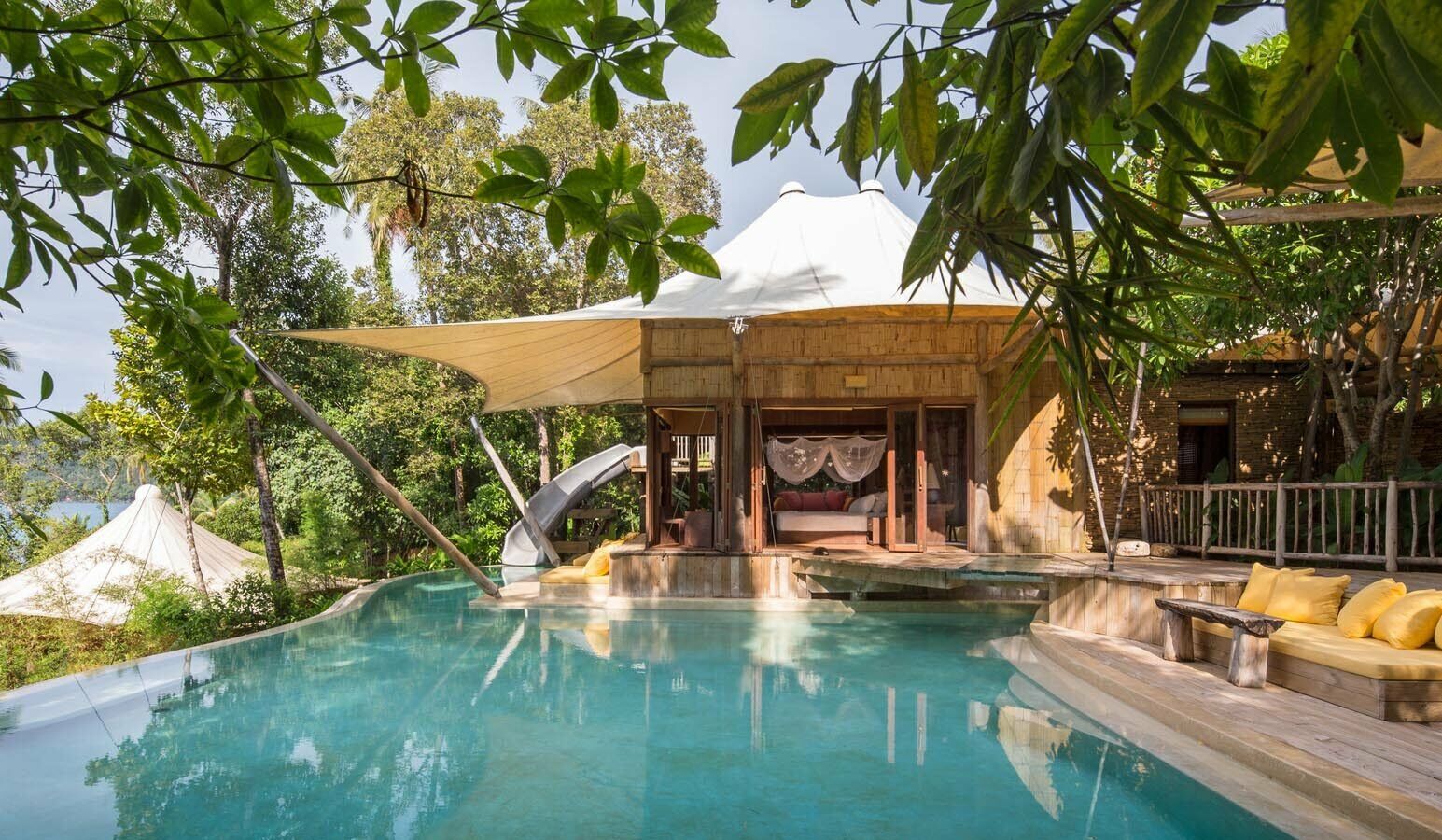 Address: 110, Tambon Ko Kut, Ko Kut District, Trat 23000, Thailand
Click here to Google Maps
Soneva Kiri is a paradise where unparalleled luxury melds seamlessly with sustainable design. At this serene escape just 90 minutes away from the hustle of Bangkok, rare experiences meet exquisite culinary delights on the backdrop of some of Thailand's finest beaches.
The resort takes Thai hospitality to another level with an offering of thirty-three private villas. Whether you prefer a room next to the beach, the jungle-clad hillsides, or those boasting panoramic clifftop views, each villa presents a private pool, spacious indoor-outdoor living territories, and lush gardens. All villas also come with either an electric buggy or bicycles allowing you to explore the winding forest paths. Your 24/7 Barefoot Guardian ensures personalised service throughout your stay.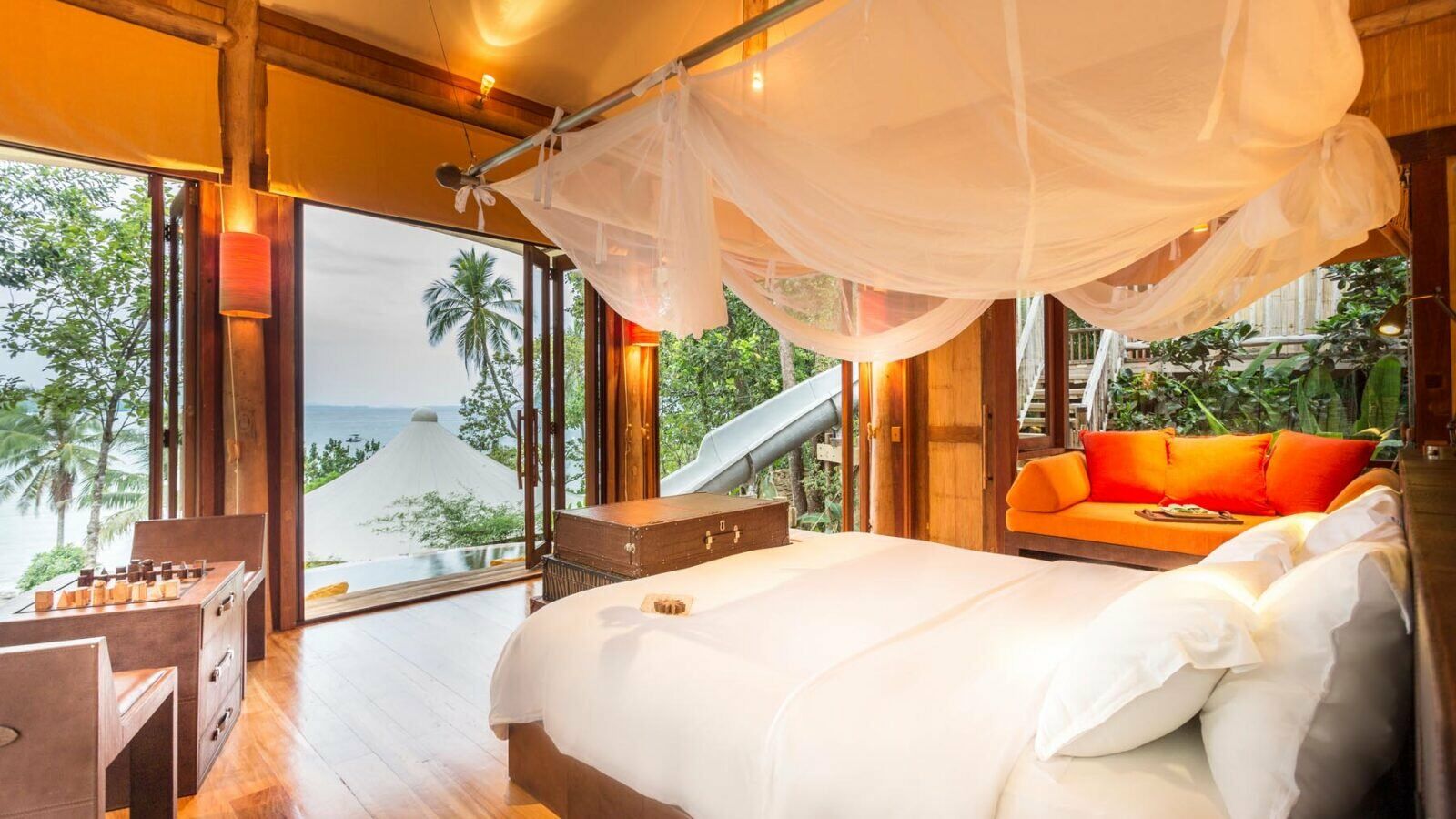 Among numerous villa options, four stand out for a memorable glamping experience: The Beach Pool Villa Suite with its easy beach access and open-air bathroom; the 2 Bedroom Junior Beach Pool Retreat offering outdoor lounging areas and an alfresco spa treatment corner; the charmingly rustic 3 Bedroom Beach Pool Reserve, ideal for families with its bonus treehouse and water slide; and the exquisite 5 Bedroom Beach Pool Reserve with a master bedroom and additional bedrooms that open to the heavens for a starlit soak or sunlit shower. The promise of a magical experience continues to the spa deck, perfect for meditative and healing treatments.
Khwan Beach Resort, Koh Samui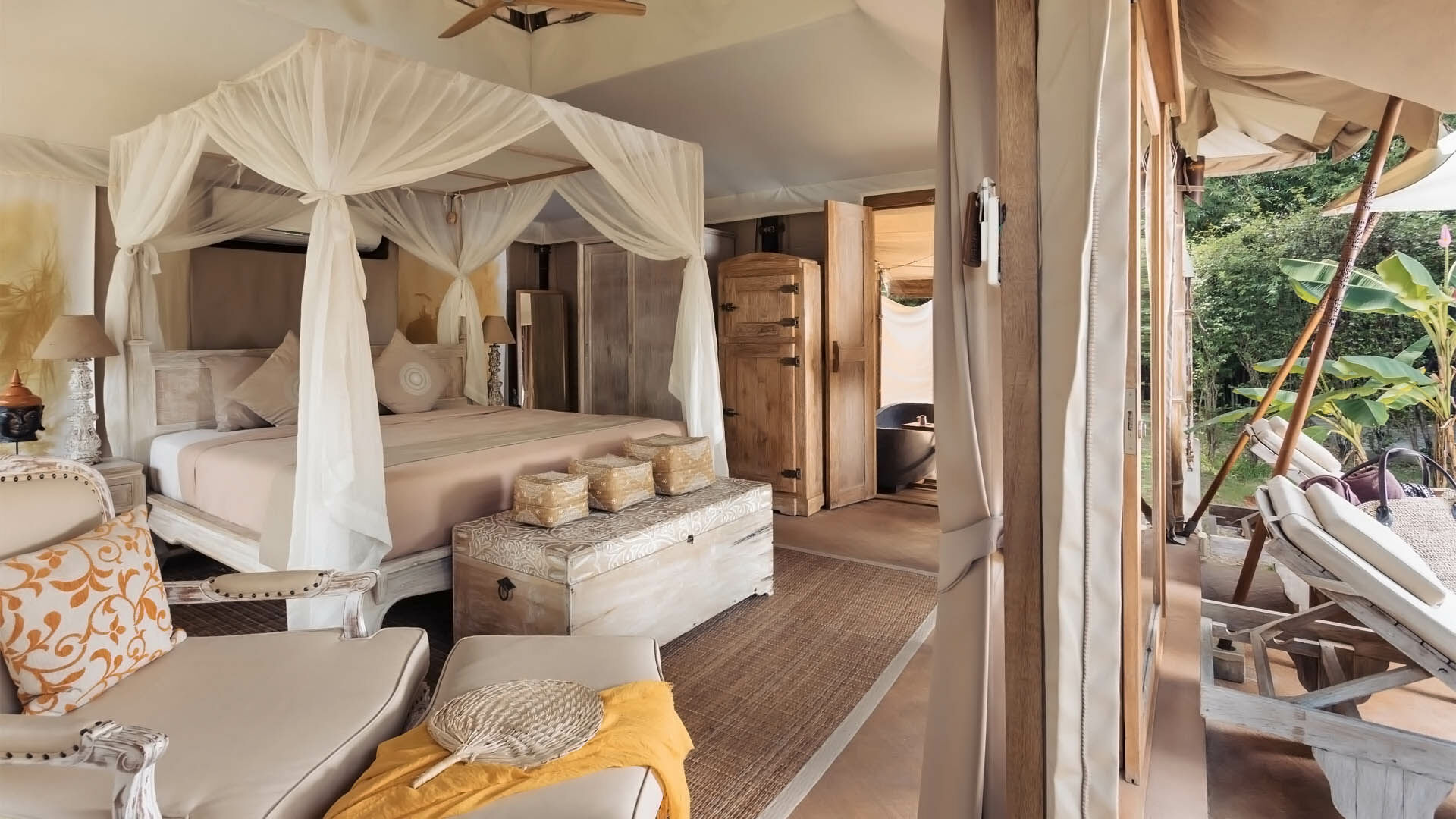 Address: 67/61 Moo 1, Maenam, Ko Samui, Surat Thani 84330, Thailand
Click here to Google Maps
Wrapped in stunning natural beauty and sheer luxury lies the Khwan Beach Resort in Koh Samui. An exclusive adults-only haven, this glamorous resort is a breath of fresh air for romantic recluses, located just a short walk from the idyllic Maenam beach.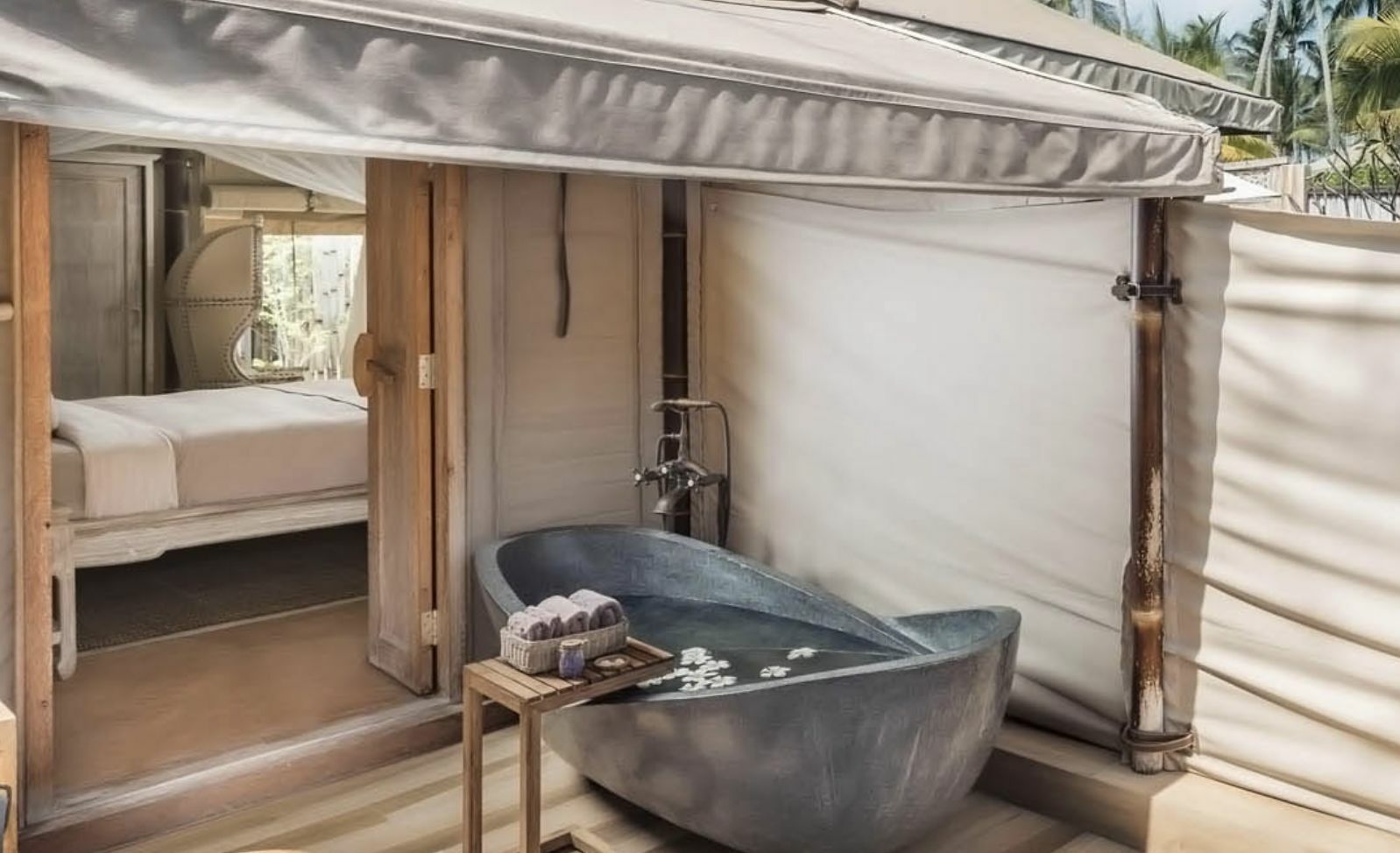 The crown jewel of Khwan Beach Resort is indeed its Luxury Tented Villas. Embracing the sinfully appealing trend of glamping, these tented villas offer a harmonious blend of colonial grandeur, tropical vibes, and modern comforts. Choose between One-Bedroom Tented Villas perfect for couples, or spacious Two-Bedroom Tented Villas for a small group. Both offer semi-open bathrooms, highly comfy king beds, sun-kissed terraces with plush sun beds, and 100% privacy in your own secluded slice of paradise.
Khwan Beach Resort is more than a stunning refuge from city life. It's a first-class ticket to Thailand's captivating tropical beauty, with a generous sprinkle of glamping luxury.
Te Mata Glamping, Khao Yai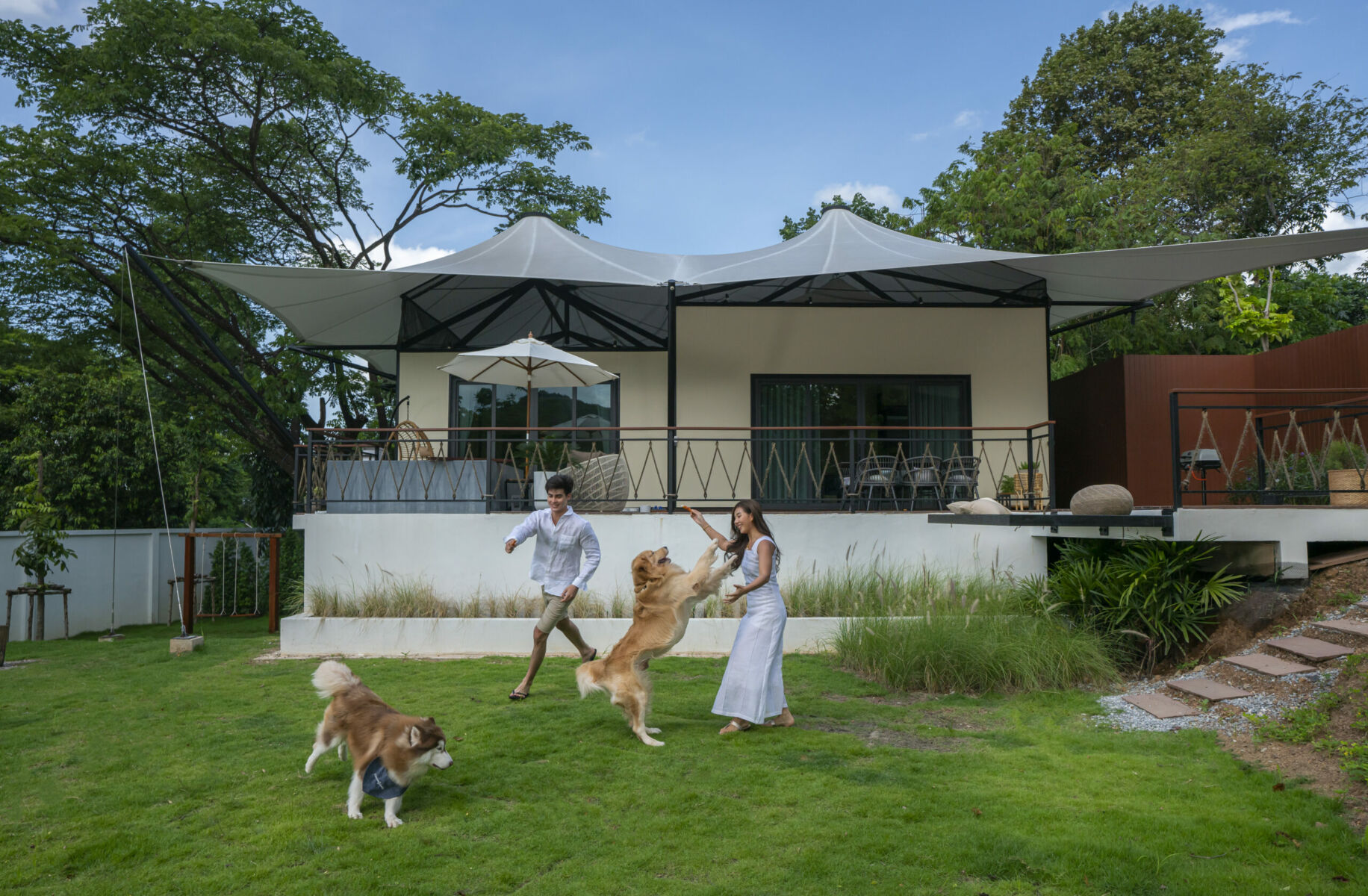 Address: 97 Moo 6, Nongnamdang, Parkchong, Nakhon Ratchasima 30130, Thailand
Click here to Google Maps
Step into the plush world of Te Mata Glamping, where luxury meets nature in Khao Yai, Thailand. Considered a shining beacon of the finest glamping in Thailand, this haven offers you an extraordinary stay tailored to your desires.
Seven unique accommodations await you, each one thoughtfully designed for a distinct glamping adventure. Whether you're looking for an intimate hideaway in the Te Mata Eden Onsen, a secluded retreat with the Te Mata Royale, or an awe-inspiring hilltop residence, Te Mata Glamping has an option just for you. Each luxurious tent boasts key features like heated jacuzzis, panoramic mountain views, private gardens and more.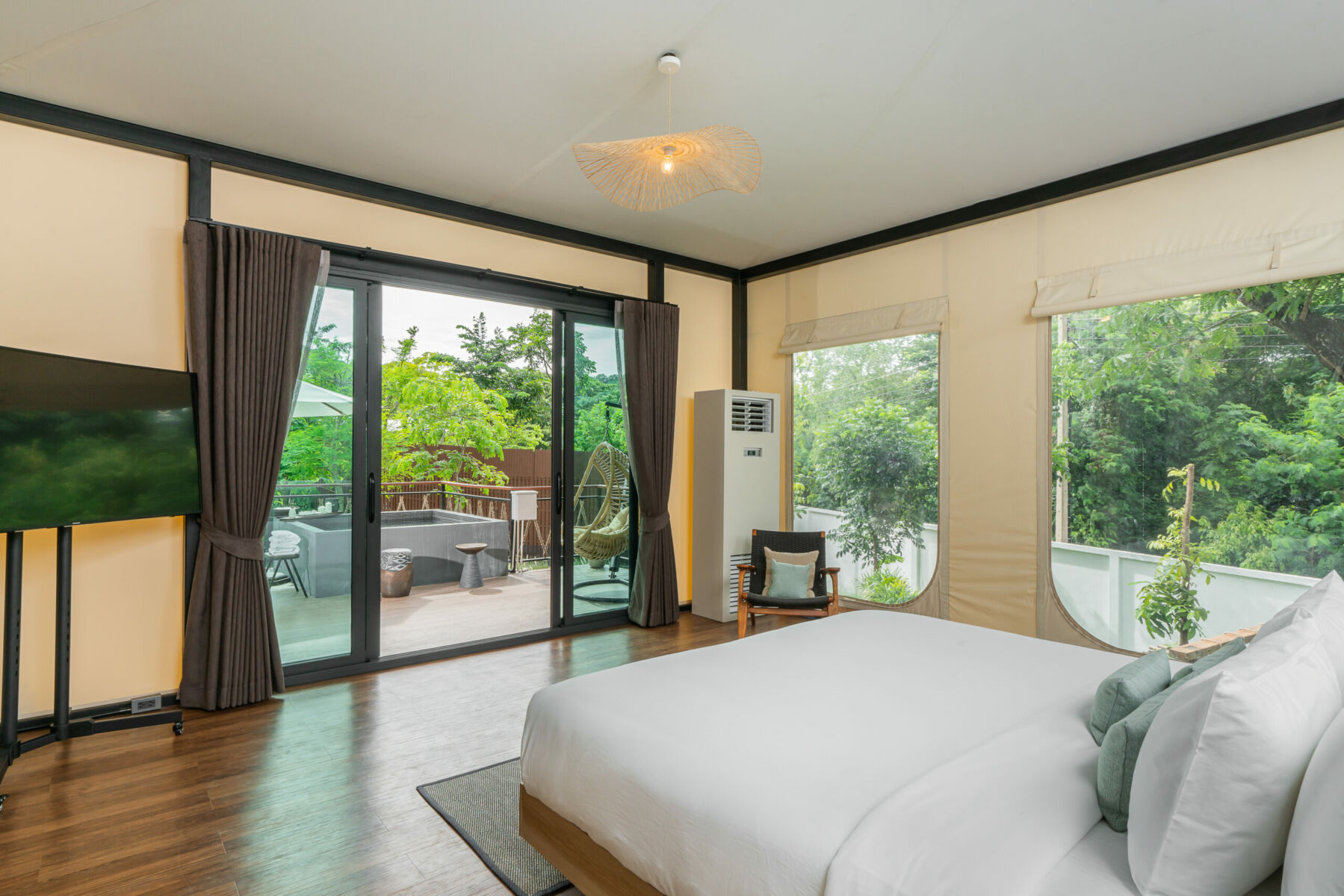 Families or groups will definitely appreciate the spacious Te Mata Lakeside, a two-bedroom wonder featuring a private lake, water slide, and heated pool. It's a true playground nestled in the breathtaking Khao Yai landscape. For couples, Te Mata 360° stands ready to host you in a whirl of romance. It provides you with a heated pool, a jacuzzi, and breathtaking mountain views. The pet-friendly Te Mata Eden Pool offers a rejuvenating retreat with a private pool, perfect for spending precious moments with your beloved pet in a tranquil garden setting.
So there you have it – the five best glamping hotspots in Thailand that guarantee a fun and glamorous adventure. Pack your Jimmy Choos along with your hiking boots, darlings. After all, why rough it when you can glamp it?
For more glamping hotels, check out our article on the top 5 beautiful glamping spots in Phuket.
---
Advertise On The Thaiger
Contact us to discuss advertising and custom solutions.
Best ofThings To DoTravel
from:thethaiger.com
published 2023-08-03 16:44:14