BECKET — With a first public hearing on a proposed luxury camping resort in Becket still a month away, opponents aren't waiting to express concern.
A change.org petition critical of the proposed redevelopment of the fabled Dream Away Lodge property had gathered 174 backers as of late Tuesday evening.
The petition's eight points about the Dream Away project, filed by an entity identified as Hit the Road RV LLC, cite fears of traffic and degraded road safety, environmental impacts and strain on local services, among other things.
The petition's message to Dream Away is, in sum, go away.
Attorney Jeff Lynch, who represented the developer at a recent online and in-person meeting with neighbors, could not be reached for comment.
The Dream Away property, owned by Daniel Osman at 1342 County Road, is listed as "sale pending" by Cohen + White Associates of Lenox. The 43.25-acre property has been on the market for at least a year with an asking price of $1.25 million.
According to documents prepared by the developer, the existing lodge would remain but be renovated. Another says the old lodge faced "no changes."
The grounds would be transformed to include dozens of camping sites and structures. The development plan reviewed by The Eagle was created by Foresight Land Services of Pittsfield.
Designs show a natural-oriented campus complete with gravel paths, bike racks, "stargazing glade," sculpture garden, pool, amphitheater and, in one corner, a "forest lounge." The project appears designed to appeal to people who like to camp without roughing it, a pastime known as "glamping." It is not pitched to RV owners.
Cortney Dupont, the agent handling the property, did not respond Tuesday to phone and text messages seeking comment on the status of the transaction, which is believed to be contingent on local approval.
William Caldwell, Becket's administrator, said Tuesday that he was aware of the petition and referred questions to officials with the town's Planning Board.
Jessica Perotti, the board's clerk, said the town received a special permit application Feb. 1 with voluminous documentary support.
"The narrative is a whole booklet," she said.
Robert T. Ronzio, the Planning Board chairman, could not be reached for comment on how his panel will go about evaluating the Dream Away proposal. The board has scheduled a public hearing for 6 p.m. April 13.
The petition argues that the project is out of scale for the community of Becket, which has a population of about 1,730.
The "illustrative master plan" for the project shows roughly 40 canvas tent sites and 60 more elaborate "village units." The plans terms those structures "a collection of eclectic, vintage units [with a] funky character that reflects flavors of the adjacent Dream Away Lodge."
"We are vehemently opposed to these conglomerate developers exploiting the natural beauty, peaceful way of life, and solitude that we all cherish in Becket from time past till today," the petition says. "We hold this quality of life here in Becket very dearly and do not need the greed of land and business developers to disrupt, destroy, and pollute the environment as well as displace the wildlife of birds and land animals that we are custodians for future generations to come."
On Feb. 23, a small group of residents met in person and by videoconference with principals of the project, as well as Lynch, their local lawyer.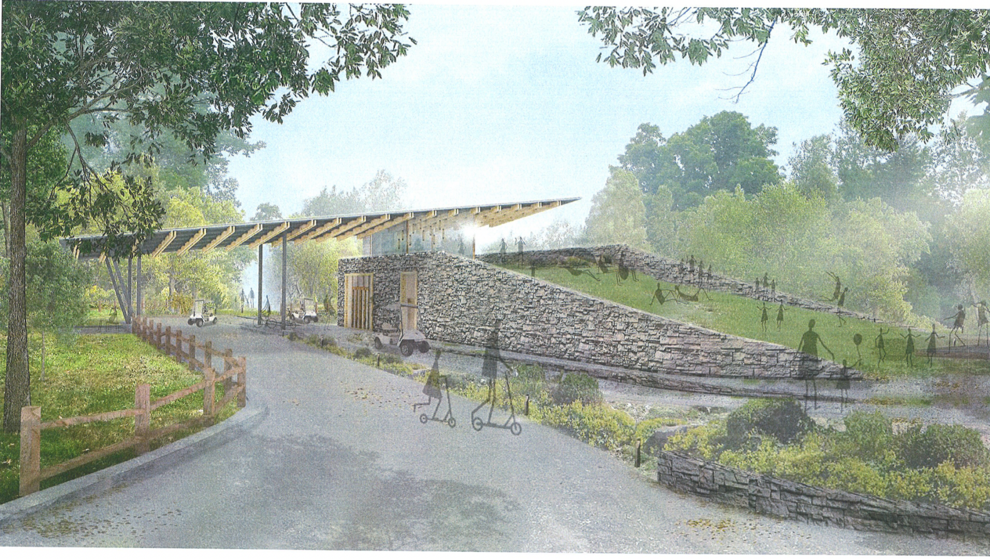 Anne and David Kong, who live on County Road, attended by video.
They said in an interview that a proponent said he wished to "allay concerns" among neighbors, ahead of the project's official appearance before the Planning Board.
The couple said they have been patrons of the lodge in its long run as a restaurant and music venue and hoped to see it get back on its feet, after suffering setbacks, as many hospitality businesses did, during the coronavirus pandemic.
"We would love to see the establishment go forward and flourish," Anne Kong said. "It was always a wonderful place to go and bring people when they visit."
She said the plans she first saw last week, detailing a 150-vehicle parking lot and dozens of camping locations able to accommodate hundreds of people at a time, caught her off guard.
"It revealed a very large development," she said. "When we looked at it, we were all pretty shocked. Bring that amount of people to a very small space … all the solitude that we seek would be lost."
David Kong pledged to fight the project.
"I'm going to push back really hard on this," he said. "I'm emotional about this issue because it's touching me, it's affecting me."
One of those who signed the petition is Rosemarie Bongiovanni, of County Road, a granddaughter of the lodge's original owner, "Mama" Maria Frasca, who operated an Italian restaurant on the property. Bongiovanni lives nearby and believes that the project outlined for the property would alter the quality of life for people in the neighborhood.
"It's going to just affect everything in an adverse way," she said Tuesday. "It would just ruin everything up here."
Her mother inherited the property and ran it for many years, until selling it to Osman about 25 years ago.
She said she hoped the lodge could continue but acknowledged that the only constant in life is change. Still, like the Kongs, she was surprised by the plan outlined to neighbors last week.
"It just took a wild turn," she said. "The whole thing is not going to be the same."
published 2022-03-02 20:00:00