What started as a drunken 2am eBay bid for a dilapidated 1960s Maltese public bus has ended up with Johnny Vegas – and his longsuffering assistant Bev – filling a field in Derbyshire with an accidental army of once-forgotten, magnificently repurposed vehicles and creating what must be the UK's quirkiest new glamping spot.
The ceramicist-turned-comedian's rollercoaster journey to becoming an unlikely camping trailblazer was captured in Channel 4's Carry on Glamping series in 2021. After one season at a temporary base on a farm near Harrogate, Field of Dreams has now found a grander, more spacious permanent home – in the grounds of 17th-century Georgian stately home Melbourne Hall, in south Derbyshire.
"This was never the plan," says the infectiously enthusiastic Vegas. "The whole thing gained a momentum of its own." The herculean task of relocating the renovated vintage vehicles – including the new jewel in the collection, a 1970 Puma helicopter which saw active service in Chile and Sierra Leone – is now complete, and the site opened for Easter.
"It's all about the aesthetics," beams Vegas, as he shows us round. "I'm not a petrolhead. I don't know anything about motors, but I just love the engineering and the rounded edges of the bodywork. And there's such a history and romance to the vehicles, which I just adore."
The new Field of Dreams is actually two festooned glamping areas, the larger housing the Puma (complete with roof terrace and sleeping four), the four-berth Maltese bus Patricia (named after Johnny's late mother), a restored 1960s Mercedes fire engine for two, and a 1960s French Citroën with detachable trailer and room for four guests.
Recycled metallic sculptures, a communal fire pit and horse trailers turned into bathroom cubicles with hot showers complete the Repair Shop vibe.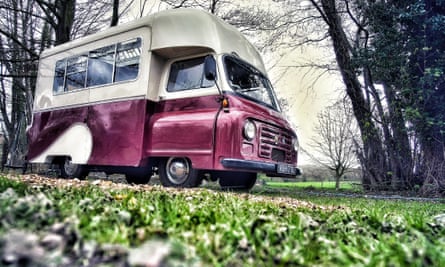 The second, adults-only, field where I'm staying with my girlfriend Wendy, is by a picturesque lake, and home to converted boat bolthole Mahala (sleeps four and has its own bathtub); Billy the Snail, a 1970s hybrid of a Morris Minor pickup; and a 1960s Fisher Holivan Junior caravan with accompanying bell tent. We're staying in Dino, a 1964 Austin J2 Bluebird Highwayman, named after Dean Martin.
From the outside it resembles an immaculate ice-cream van, but inside it is Tardis-like and packed with all mod cons including a double stove, a convection oven, a fridge, a heater – essential for our early spring visit – and an electric fan for if you're staying when temperatures soar.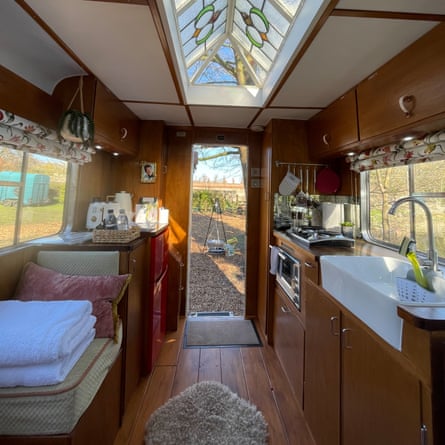 There's also a cocktail bar, a panoramic stained-glass skylight and two Johnny Vegas-designed glass panels separating the cabin from the living area. Bedding, blankets and cushions are provided, and the pull-out double bed is surprisingly comfy.
The setting is beautiful. Melbourne Hall's gardens – including one of the UK's longest yew tunnels – are open in the afternoons from 1 April to 30 September (1pm-5pm), while the hall itself is open in August only (Tues-Sun, 2pm-4.15pm). There's also a small farm – where we meet Brian the friendly snag-toothed pig – and it holds events from concerts to comedy over the summer. Beyond the hall there's rolling countryside and pretty walks to nearby villages, including Breedon on the Hill, and the nature reserve at Calke Abbey.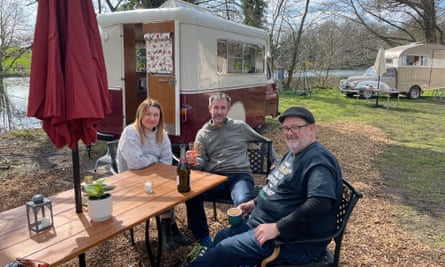 Within the grounds the recently renovated Brewhouse (originally a stable dating back to 1703) now serves an international collection of craft beers. We love the Kernel Pale Ale, accompanied by pinsa – super light Roman-style pizza.
The 12th-century market town of Melbourne, once home to travel agent Thomas Cook, and the inspiration for the Australian city of the same name, is a stroll away and worth a wander, with plenty of restaurants and cafes.
Harpurs offers roof terrace views of the south Derbyshire countryside, while Fortey's does cakes, pastries, chocolate and cookies (including the ones on our Dino tea tray).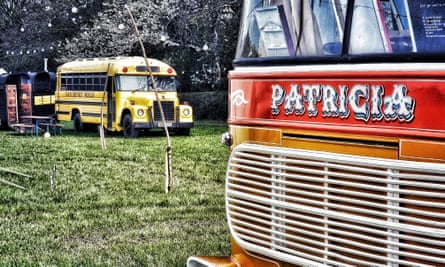 One afternoon we take a 25-minute taxi ride (about £20 from Field of Dreams) to an industrial estate on the northern outskirts of Derby to the newly opened Withers Gin School, where botanicals maestro Edward Gibson distills the essence of artisan gin manufacture into a well-oiled, entertainingly educational two and half hours.
After two punchbowl-sized glasses of Withers' topical Coronation Gin we make our own blend to take home – opting for an earthy, citrussy concoction of bitter orange, ground mace, orange zest, hibiscus, Szechuan pepper and caraway seeds. We call it Rotherhithe Ruin and it certainly makes up in punch what it lacks in finesse.
Back at Field of Dreams the moon is shining, ducks are quacking and swans are dive-bombing the lake. We check the availability calendar in the hope of booking another visit, hopefully in one of the dog-friendly vehicles.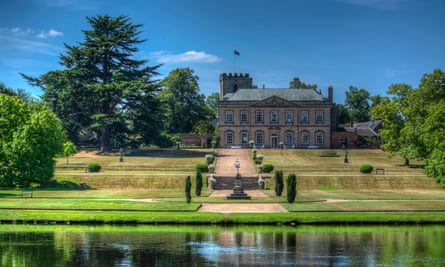 Johnny, currently in semi-permanent residence in the Puma, has one eye on the second series of Carry on Glamping – being filmed and airing later this year – and the other on the 2024 glamping season.
"If we hadn't found Melbourne Hall, I honestly think I'd have kept Patricia in the Transport Museum, but we're here for good now," he says. "Who knows what the future holds. I've got nothing specific in mind but people have mentioned the idea of converting a Concorde. That would be utterly iconic and utterly bonkers … so watch this space."
The trip was provided by Field of Dreams (open now until the end of September). Prices for Dino starts from £82.50 per person per night. Several of the vehicles are dog-friendly. A 2.5 hour experience at Withers Gin School costs £115 for two people.


from:www.theguardian.com
published 2023-04-18 03:31:32