Thirty years is a long time in the life of a hotel or resort. Over those decades it may have changed hands and monikers multiple times, undergone renovations that rendered it unrecognisable from its origins, or have seen its location change radically around it. Some will have disappeared completely.
But Amanwana, a luxurious wilderness hideaway on the Indonesian island of Moyo, part of Moyo Satonda National Park in the Flores Sea, has just reopened after its annual seasonal closure just in time to celebrate its 30th anniversary. And it's still very much the place it always was.
If auspicious beginnings are the secret to such longevity, then Amanwana is certainly a case in point.
Publisher, hotelier, friend to the rich and famous, and Aman Resorts founder, the Indonesian-born Adrian Zecha opened Amanwana in 1993. It was an early job for the now legendary Belgian architect Jean-Michel Gathy of design firm Denniston and is said to have put him on the map – he has gone on to be one of the world's most acclaimed designers in the field, his firm's work including several other Aman properties.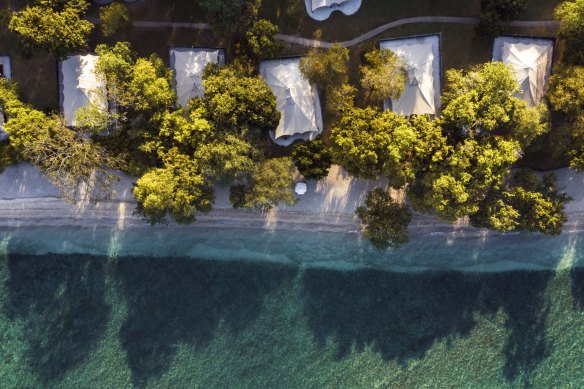 Under the guidance of Zecha and Gathy, Amanwana (meaning "peaceful forest" in Sanskrit) was also an early forerunner of glamping-style accommodation and of low-impact practices.
But it was its combination of upscale comforts, seclusion and easy access to unspoiled nature that initially attracted a following.
No sooner had it opened, than Princess Diana came to stay, seeking peace and solitude.
David Bowie, Sting, Mick Jagger and Yoko Ono are also among its roster of famous guests.
from:www.theage.com.au
published 2023-05-01 06:56:46