T-Mobile is inviting consumers to visit a technology lab dubbed Tech Experience in Bellevue, Washington. For those who can't make it to the lab, a T-Mobile Tech Experience Truck will provide an interactive mobile showroom.
The Bellevue T-Mobile Tech Experience is built inside T-Mobile's Launch Pad, where engineers develop, refine and introduce next-generation wireless technologies such as LTE Advanced, 5G and the IoT.
"We don't just wait for the future to arrive. We innovate and push the future of wireless forward," Neville Ray, T-Mobile's Chief Technology Officer, said in a press release. "We already hold the crown for fastest LTE, and today we're working to build a mobile, nationwide 5G network, all thanks largely to the work being done right here in Bellevue."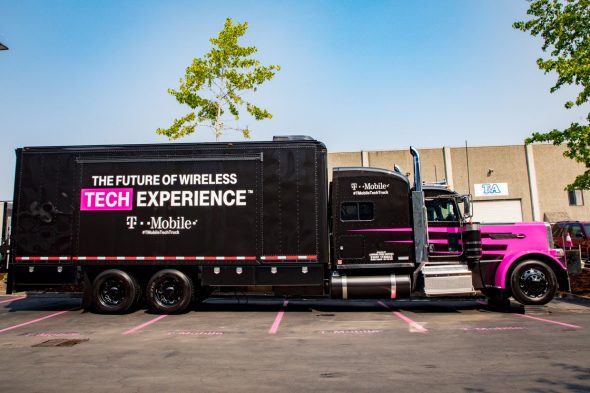 The T-Mobile Tech Experience provides real-world demonstrations of the benefits of 5G. The exhibit is mounted on a souped-up semi-truck that can go just about anywhere. That truck recently began its tour in Bellevue, WA and will make many stops nationwide during the next year.
Carriers are in a highly competitive race as 5G approaches and the penetration of the IoT deepens. Late last month, T-Mobile and Nokia agreed to a $3.5 million deal to accelerate deployment of T-Mobile's 5G network. T-Mobile gains access to Nokia's comprehensive suite of 5G technology. Nokia also will build T-Mobile's national 5G network, which will use 3GPP New Radio (NR) standards and operate in the 600 MHz and 28 GHz wavelengths.
T-Mobile has carefully crafted its image of being the "uncarrier" and working outside the traditional rule book. The Tech Experience and interactive mobile showroom are aimed at bolstering that image.
published 2018-08-08 00:56:00