As a local boy, I can tell you that Penang truly is a destination that caters to every type of traveller. It's no wonder it's one of the top travel destinations to visit in 2022! 
Looking for inspiration for your next trip? I've come up with a list of the top 24 experiences in Penang for each type of traveller! By the time you're done with this article, you'll be itching to book those tickets! 
For nature lovers
1. Explore Penang's pristine rainforests at The Habitat Penang Hill
To experience the pristine wonder of a 130 million-year-old forest, first hop on a funicular train ride to the top of Penang Hill. 
Continuing up further from Penang Hill Station, you'll find The Habitat Penang Hill, a natural haven laden with ambient nature trails that will give you a truly intimate experience of Penang's virgin rainforests. 
Don't miss the Curtis Crest Treetop Walk, the highest vantage point in all of Penang where you'll be able to catch a stunning view of the Penang Bridge, Mainland Penang, and even Langkawi! It is also here where you can camp out under the stars at night with The Habitat's latest attraction: Starlight Camping. 
In addition, for those in search of endless thrills, you simply must try The Flight of the Colugo, an adrenaline-pumping adventure course that allows you to zipline across the treetops! 
2. Immerse yourself in a gigantic butterfly sanctuary at Entopia by Penang Butterfly Farm
Entopia by Penang Butterfly Farm is one of the top attractions on the island and it's easy to see why. 
The main attraction here is the Natureland, an awe-inspiring living garden vivarium that houses over 15,000 free-flying butterflies! Complete with a miniature waterfall and rustic natural decor, setting foot in the Natureland is akin to being transported to a world right out of a fantasy novel. 
In addition, you can also find out more about the growth stages of butterflies at the underground learning centre. If you're really lucky, you may even see a butterfly emerge from a cocoon! Before concluding your trip, make sure to release some newly-emerged butterflies at the daily Vita Nova event for good luck!   
3. Hike along the most scenic trails in Penang
Thanks to its abundance of alluring nature reserves, Penang has no shortage of scenic hiking trails to offer. Penang National Park, the smallest of its kind in Malaysia, is one such location where you can escape the hustle and bustle of city life. 
In addition to trekking the many untouched jungle trails, you can also visit Monkey Beach, one of the best beaches on the island; or hop on a boat ride to Pantai Kerachut, an idyllic islet featuring plenty of scenic locations. 
In Seberang Perai (also known as Mainland Penang), one of the most popular hiking trails is the Bukit Mertajam Recreational Forest, known as Cherok To'Kun to locals. It is one of the top nature escapes in the area and features the biggest trees in Penang. It even houses a Mengkundur Tree with roots as tall as two grown men! 
4. Taste the flavours of Malaysia at Tropical Spice Garden
For a therapeutic escape into a tropical garden filled with various fragrances, then head to the Tropical Spice Garden in Teluk Bahang.
As you embark on a guided tour, you'll learn about, touch, and even taste some of the most common spices used in Malaysian cooking. In fact, you can even sign up for a fun, interactive cooking class! 
In addition, you can enjoy a cup of freshly brewed herbal tea, buy some spices from the onsite shop, or even camp under the trees at this beautiful garden known as Asia's Hidden Eden! 
5. Treat yourself to a therapeutic nature retreat at Boulder Valley 
If day trips aren't enough for you to experience Penang's rainforests, how about an overnight stay instead? However, rather than pitching your own tent, you'll be staying in a luxurious tented villa filled with modern creature comforts at Boulder Valley in Teluk Bahang! 
This unique nature glamping experience is one of the most therapeutic retreats in Penang. After all, what's better than waking up to the wonderful sights and sounds of a living forest? During the day, you'll be able to breathe in the freshest air and enjoy a plethora of fun activities. 
For avid photographers
6. Capture the perfect sunset pic at the Clan Jetties
The Clan Jetties is one of the most popular photo spots in Penang. Known for their rich heritage, the jetties are one of the last remaining traditional Chinese settlements in the state. What's more, they provide the perfect spot to capture a stunning sunset photo over the Penang Bridge. 
Apart from amazing waterfront views, you can also sample some of the freshest seafood in Penang here! 
7. Go on an artsy adventure as you tour around Penang
Street art in Penang has really taken off since the famous George Town murals caught the attention of the global travel community. These colourful murals are definitely one of the must-see sights, especially if you're planning on taking plenty of fun photos for the 'gram. 
However, there are plenty of artsy locations to discover in Seberang Perai too, with the Butterworth Art Walk being one of the top artsy hidden gems in Mainland Penang. There, you'll find murals and art installations by local artists that highlight the rich culture and heritage of the area! 
8. Explore the top photo spots on the Mainland 
Located off the shores of Bukit Tambun in Seberang Perai, Pulau Aman is an idyllic island filled with stunning coastal views and incredible nature trails that will make you say "Wow!". There's also a fishing village where you can feast on fresh mantis shrimp! 
On the other hand, Kampung Agong is where you can experience kampung (traditional rural village) life. At this ambient homestay, there are plenty of IG-worthy photo spots for you to light up your Instagram feed. These include traditional wooden houses and a giant bird nest swing that gives off Balinese vibes. 
Finally, as you embark on a hiking trip to the abandoned tin mining site known as Frog Hill in Guar Petai, you'll be treated to a stunning view of lakes that is reminiscent of China's famous Jiuzhaigou!
For avid foodies
9. Revisiting Penang's most popular food spots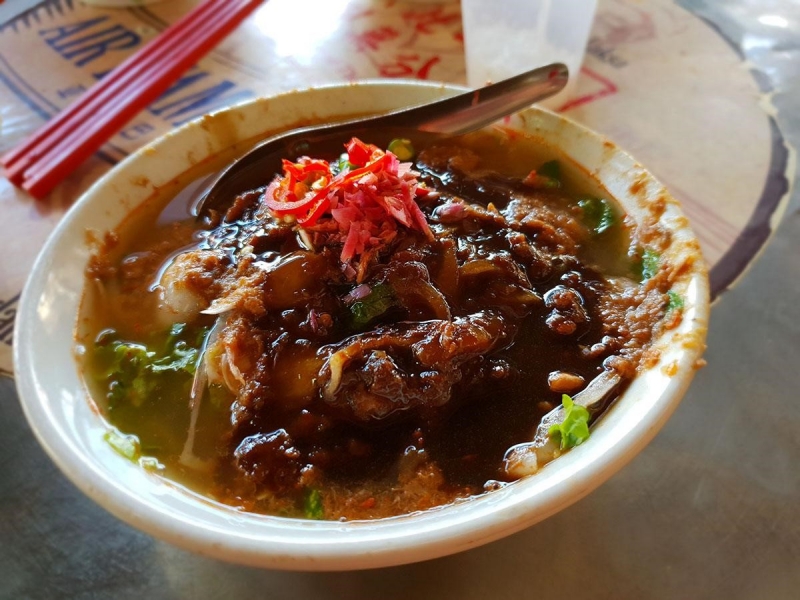 No trip to Penang is complete without feasting on the best eats on the island!
There's the popular Ayer Itam Laksa, now reopened after temporarily closing in 2021, the hearty Nasi Kandar Beratur where long lines are a daily occurrence, the spicy, tangy Hameed Pata Mee Sotong at Esplanade Park, the smokey plates of Char Koay Teow on Siam Road and the world-famous Teochew Cendol on Penang Road just to name a few! 
10. Discover hidden food gems in Seberang Perai
There are also plenty of hidden food spots in Seberang Perai that you should try too! 
The most famous of these is BM Yam Rice, located in the bustling town centre of Bukit Mertajam. This delicacy consists of fragrant rice cooked with chunks of yam. It is usually served with a pipping bowl of peppery soup filled with pork. What's more, yam rice also comes with spicy sambal sauce that elevates the flavours further!
In addition, make sure to make a stop at the aforementioned Bukit Tambun where you'll find a plethora of top seafood restaurants. If you want to satisfy your late-night cravings, head to Joo Heng in Butterworth where you will find the best tomyam noodles in town! 
Also read: 25 Best Things to Eat in Penang, Malaysia
11. Hop between Penang's most ambient cafes
Whether you prefer weekend brunches or delectable desserts, there's a cafe in Penang that'll satisfy your cravings!  
Urban Daybreak and Kraffmen Cafe are two of the most popular breakfast and brunch spots in Penang, serving up sumptuous plates of food that look just as good as they taste. 
Crumbles & Cream, on the other hand, is just one of the many incredible dessert cafes in Penang while Lunabarcoffee really lulls you into a blissful mood as you enjoy a fresh cup of coffee amidst green surroundings and natural sunlight. 
12. Seek out Penang's top hidden bars
For all those who love an exciting nightlife scene, Penang is full of incredible hidden bars and gastropubs that will keep you coming back for more. 
At Manchu, housed behind a black curtain in a semi-abandoned shop lot, you'll be able to knock back a few pints whilst surrounded by prominent Qing Dynasty motifs. ChinChin Gastropub, meanwhile, is an izakaya-style gastropub and bar set in an intimate and casual fine-dining setting. 
Over in Seberang Perai, 1874 Cross Street has quickly risen to be one of the best hangout spots in the area. It features Insta-worthy decor and live band performances, perfect for a fun night out with friends.
13. Go home with some of the best edible souvenirs in Penang
One of the most sought-after souvenirs in Penang is tau sar pneah, a flaky traditional Chinese pastry filled with sweet bean paste. Almost every Penangite will have their own answer on where to find the best tau sar pneah. My personal favourite is Ghee Hiang, which has been in operation for over 160 years! 
I recommend also checking out other popular snacks such as Beh Teh Saw Biscuits and crushed peanut candy (kacang tumbuk). For edible souvenirs with a more modern twist, try looking for MyKuali "Penang White Curry", voted the world's best soupy instant noodles by New York Magazine. 
For culture and heritage explorers
14. Discover the rich Heritage of Penang's Peranakan community
One of the unique aspects that truly make Penang cuisine stand out is the influence of the Peranakan community. Indeed, Penang has a long, intertwining history of Peranakan cultural heritage, and one of the best ways to explore and learn about it is by visiting the Pinang Peranakan Mansion! 
This living museum is housed within a vibrant green mansion on Church Street in George Town. It offers visitors a chance to experience what it was like to live in a Peranakan household through the vibrant exhibits that resemble an actual Peranakan house. You'll be able to take plenty of incredible photos thanks to the many ambient photo spots here. 
In addition, you can also sign up for fun workshops where you can learn to make your own Peranakan Beaded Shoes! 
15. Fall in love with the history of music in Penang
Penang House of Music is one of my favourite hidden gems in Penang. Located on the fourth floor of KOMTAR, this lesser-known museum allows you to embrace the colourful heritage of music in Penang. 
In addition to exhibits, pictures, and even vintage vinyl that document pivotal moments in Penang's music industry, there are also plenty of interactive sections that allow you to experience Penang's musical heritage. You could try playing a traditional instrument, watch a remake of a concert in virtual reality (VR) or even try your hand at being a radio DJ too! 
16. Visit one of the largest Buddhist temple complexes in Southeast Asia
The Kek Lok Si Temple, built atop a hilltop at Air Itam in 1891, is one of the most beautiful temple complexes in Malaysia and is especially popular during Chinese New Year. 
The main attraction of Kek Lok Si Temple is no doubt the 30-metre tall Ten Thousand Buddhas Pagoda. It is often known as the most iconic structure in the temple complex. As you tour the temple complex, enjoying the zen-like atmosphere, spend some time reading up about the fascinating history of the temple. 
17. Stay at an alluring heritage hotel
There is no shortage of luxurious hotels and resorts in Penang. However, if you prefer a different kind of accommodation, opt to stay at a heritage hotel. 
These hotels are often housed in historical townhouses or buildings and refurbished to cater to staycationers. If you ask me, it's the best of both worlds. Not only will you be able to enjoy modern comforts, but you'll also be able to soak in the cultural heritage of Penang.
Some of the best heritage hotels in Penang include Campbell House, Yeng Keng, and Seven Terraces, all of which are just a stone's throw away from the heart of George Town. 
For shopaholics 
18. Hop between the most famous malls on Penang Island
Three of the most beloved malls on Penang Island (and in Penang as a whole) are Queensbay Mall, Gurney Plaza, and Gurney Paragon. As you throng these three malls, you'll find plenty of well-known brands, F&B options, and more! 
Gurney Paragon, especially, is known for having one of the largest bookstores in Malaysia: BookXcess Penang. It is located on the seventh and eighth floors of the mall and stocks just about every genre imaginable!
19. Shop at the biggest outlet mall in Malaysia
Design Village Outlet Mall, located in Batu Kawan in Maindland Penang, is just a short distance away from Sultan Abdul Halim Muadzam Shah Bridge (known as Penang Bridge 2). It features a wide range of international and local artisanal brands as well as well-known F&B outlets. 
More importantly, unlike most conventional shopping malls, Design Village is located amidst lush greenery. Think wide-open spaces and plenty of plants giving off tropical vibes. In fact, it is Malaysia's greenest mall! 
20. Hunt for traditional and artisanal souvenirs along Armenian Street
Located in the heart of George Town's historical centre, Armenian Street is one of the most vibrant locations in Penang. As you explore this bustling area, you'll find temples, museums, plenty of famous eateries, as well as a few of George Town's famous murals. 
However, for the shopaholic, Armenian Street is where you can find some of the best artisanal souvenirs in Penang. Many of the shops here are housed in traditional shophouses where local merchants peddle their wares. The Armenian Street Market, held every Saturday Evening, is one of the best places to look for unique local souvenirs. 
21.
Visit the weekly Pop Up Market at Hin Bus Depot
Think of the Hin Bus Depot as the gathering point of Penang's talented local artists. At this abandoned former bus depot, you will find regularly-held art exhibitions showing off the work of various local artists. 
Visit every Sunday and you'll also find a pop up market behind the depot where local artisans sell their work. You'll find one-of-a-kind souvenirs as well as good food, not to mention great vibes as well. Other artisanal shops that you should add to your Penang itinerary include the Penang Batik Factory and Jonathan Yun Sculptural Jewelry.
For adventure seekers
22. Hop on the world's longest waterslide at Escape Theme Park 
When it comes to thrills and excitement, Escape Theme Park is the first place that comes to mind. This water adventure park in Teluk Bahang offers fun rides and adventure courses with green, natural surroundings. 
Fit for both the young and young at heart, Escape Theme Park has plenty of activities to offer but its most eye-catching attraction just so happens to be the longest tube waterslide in the world! As you slide down this 1km-long slide that snakes its way around a verdant rainforest, you'll have a chance to admire the scenery in a unique way before falling into the splash pool four minutes later! 
23. Challenge yourself at The Gravityz @ The Top 
For most Penangites, Kompleks Tunku Abdul Rahman (or KOMTAR for short) is one of the most iconic structures in Penang. After undergoing some renovation and repair, it is now also one of the city's top tourist hot spots.
My favouirte attraction there is The Gravityz! Located at The Top (65th floor of KOMTAR), The Gravityz is an adrenaline-pumping mini adventure course that lets you enjoy a unique experience of Penang from just outside the wall on the 65th floor of KOMTAR!
Attached to a safety rope, you'll basically be challenged to navigate a mini obstacle course that includes jumping and sliding across each corner of KOMTAR on the outside. If you can keep your eyes open, you'll be treated to an unforgettable bird's eye view of George Town! 
24. Explore Balik Pulau and beyond by bike
If you love exploring a new area by bicycle, then I highly recommend signing up for a bicycle tour of Balik Pulau. Balik Pulau is an ambient town on Penang Island that is famous for its natural scenery, mangrove forests, and abundance of durian orchards. 
As you cycle through the area, you'll be able to visit most of these locations, as well as the other memorable sights in town. Alternatively, you can also head to Countryside Stables Penang where you can try horseback riding at the onsite course. 
Penang has it all! 
And there you have it: 24 experiences in Penang that's fit for every traveller! Whether you prefer seeking out ambient natural attractions or feasting on world-famous delicacies, Penang offers every traveller the perfect vacation! 
Only thing left to do now is to start planning for your next trip to The Pearl of the Orient!  
from:www.tripzilla.com
published 2022-02-18 10:00:38